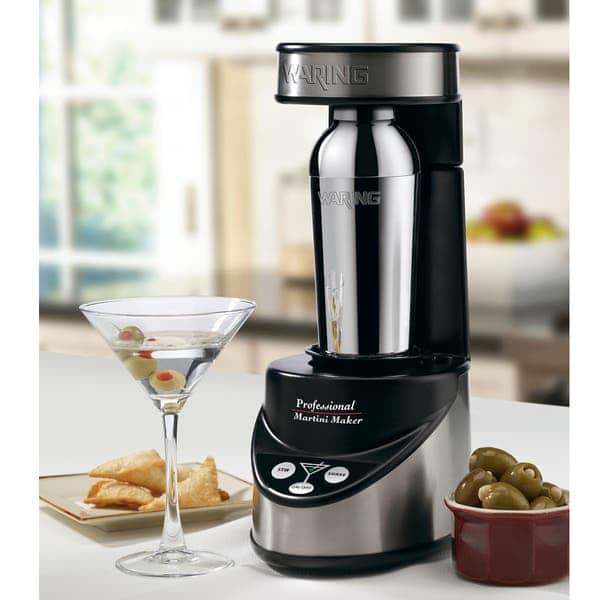 Waring Pro Professional Electric Martini Maker
All the martini lovers know how much precision goes into martini making considering its technique. There are plenty of martini options out there for the picky martini people. You can ask your bartender to create it shaken or stirred to enjoy your preferred cold martini. Or you can bring home the Waring Pro Electric Martini Maker to fashion your own cocktails.
Master the art of martini making with this electric martini shaker in your home bar. The electric cocktail shaker will give you the freedom to put your own twist to the martini. Besides, you can pick the specific olives to add to it or skip them altogether.
Waring is a premium cocktail shaker that will give your arm the rest from all the shaking to get the martini composition just right. The cocktail maker machine has specified shaking technique to suit the blend and result in a chilled martini. With this cocktail shaker machine, your evenings will be sorted after work.
This timeless cocktail will be your companion when you want to wind down with a book. The best part is the automatic martini shaker machine will blend all the ingredients just at the touch of command. Your drink will be pour-ready in a few minutes and shakes. Just keep the olive garnishing ready in your cocktail glass.
Let's take a look at this fancy and convenient cocktail maker machine in detail.
Features of Waring Pro Professional Electric Martini Maker Machine
If we talk about the appearance, the cocktail shaker machine comes in a black and chrome body that is decently made. At first, you may feel it appears akin to a coffee maker along with a thermal shaker.
The cocktail machine comes with a 1oz shaker cap which is made from high-grade stainless steel. It is easy to clean and add in all the ingredients into the cup.
Your cocktails will be perfectly blended with the 20-ounce cocktail shaker that has a built-in strainer to pour cleanly into your cocktail glass.
Operating the electric cocktail shaker is quite easy with the simple touchpad system. Your cocktail will be chilled and ready for you to enjoy in a few shakes. You can choose from shake and stir option depending upon the kind of martini you like.
This electric cocktail shaker is a perfect addition to your kitchen without taking up too much space. Standing at 10-4/5 by 7 by 15 inches the premium cocktail shaker will look elegant without obstructing your bar area or kitchen.
The electric martini shaker machine is easy to set up and read through the user manual, which is also convenient to follow through.
You will find creating cocktails like Martini and Manhattan easier without breaking your arm using this premium cocktail shaker.
The cocktail mixer machine will make you the star of the evening if you are entertaining people at home. Moreover, you and your guests will enjoy cocktails back to back with this cocktail machine with this amazing conversation starter machine.
The Waring cocktail maker machine comes with a 5-year motor warranty in case there is an issue with the functioning. You can rely on this cocktail machine for years to come while you sip your martinis sitting in your lounge chair in your backyard or living room.
How to use the Waring Pro Electric Martini Maker?
You can look classy and fancy while using the Waring Professional Martini Maker with its easy operations. Here is how to use the functions of your new home bartender that you won't have to tip.
1. Ingredient Check
While you don't need to shake your martini, you will still need to grab the ingredients to perfect the cocktail in the electric cocktail shaker.
To make a classic martini, use dry gin and dry vermouth, ice to enjoy your happy hour at home. You can add unstuffed Spanish olives or regular olives for garnishing.
Add the cocktail ingredients to the stainless steel shaker cup to prepare the sophisticated martini without any more hassles.
2. Select and Touch
The timeless cocktail is only a touch of command away from your cocktail glass. You can choose from a shake or stir option however you like your martini. The two buttons are separately marked, which are easy to see and operate.
For the cocktail mixer, stirring is similar to a rotating motion, so it will be more rotated than stirred. Hopefully, this won't result in much of a difference in the taste and texture of the cocktail.
When you touch on the command, a green olive light will signal the working of the cocktail machine. We call this feature innovative and interesting since olives and martinis go hand in hand.
3. Pour and Enjoy
When your cocktail is all done in under a minute, get your chilled cocktail glass along with olive garnishing. Perhaps don't shy away from adding a decorative umbrella over it to get bar vibes at home.
You can pour directly from the shaker with an inbuilt strainer to the cocktail glass and enjoy the perfectly consistent martini. The 20oz shaker will give you a considerable amount of cocktail to sip while you prepare to make another one.
Temperature Testing
The science of martini proves that the drink is best enjoyed between 15 to 19F and how chilled an individual prefers it. With the time taken to stir or shake your martini, the Waring cocktail shaker machine results in a drink around 29F. The low impact stir will lead to even higher temperature difference.
You can easily counter this by adding extra ice while mixing your martini cocktail. Additionally, you can keep your martini glass in the freezer to chill along with the olive garnishing. The technical martini lovers can still love the outcome of their chiller martini this way.
If it is still not chilled enough for you, add in a few ice cubes and stir the drink for a minute. You can cool down your martini to the frosted 20F in the pre-chilled stainless steel shaker. Pour your gin and vodka concoction to the chilled cocktail glass and enjoy.
Is the cocktail machine noisy?
While making the martini cocktail in the Waring Pro Electric Martini Maker Machine, you will notice that there is minimal noise output from the cocktail machine. This low impact noise can be easily ignored even when ice is rattling inside the cocktail shaker machine.
You will see the machine working and pumping the shaker for a minute without making much noise resulting in a perfect martini. The automatic cocktail shaker machine will go along with your lazy and noiseless evening plans.
So, yes, you can make your martinis quietly in the kitchen without anyone noticing if it is your fifth cocktail of the evening. Both the operations, shaken and stirred, make the cocktail steel shaker spin quietly.
Is it worth the investment?
Getting the waring cocktail machine will be an upgrade from the hand-shaken martinis and cocktails. You can say goodbye to your old method of martini making and waiting for the ingredients to blend and achieve the perfect consistency.
All you have to do is stock up on gin and vermouth for your perfect glass of martini. An addition of garnishing of olives will have you enjoying martini right at the comfort of your home. With the in-built strainer, you won't have any ice pieces while sipping on the martini.
Moreover, your martini will be electrically shaken, so it will prevent the drink from overly shaken and frothy. Instead of spending on bars and tips, you can be independent and creative while making your cocktails. Your home bar definitely deserves an upgrade of an electric cocktail shaker.
Master these Martini Recipes
We have listed some martini recipes in case you feel adventurous to try something other than a classic martini. With so many choices, you can put the cocktail shaker to good use and never run out of cocktail recipes.
Dirty Martini
For those who like dirty martinis served in chilled and tall cocktail glasses, we have you covered here. You just need to add brine of olive juice to the steel cocktail shaker along with some premium vodka and dry vermouth. Don't forget to add ice cubes. Select the stir option to make this one and pour in a chilled cocktail glass with stuffed olives.
Gibson
If you know how to make a classic martini, you can master making Gibson with a twist of garnishing in the cocktail glass. Just grab a cocktail onion with the glass while pouring your martini stirred with dry gin and dry vermouth.
Saketini
To make Saketini, add half an ounce of sake to the dry gin while skipping vermouth. This will bring a Japanese twist to your martini to go with your Asian food. After the electric cocktail shaker is done stirring your drink with ice, add lemon peel for garnishing.
Sherrytini
For Sherrytini, use classic vodka with sherry and ice and let it stir for a minute in your Waring cocktail machine. Add an orange peel for garnishing and pour the stirred cocktail into your cocktail glass. Now, enjoy the citric and sherry twist to your classic martini.
Raspberry Lemon Martini
Another citric blend martini for you with the hints of citrus vodka and raspberry syrup. You need a quarter of an ounce of lemon juice and simple syrup along with citrus vodka to make this one. Press the shake button for your drink to shake for about ten seconds. Pour the martini into the cocktail glass along with fresh raspberries garnishing.
Appletini
Martini is a hardcore drink, but you can make it sweet and sour by adding apple schnapps to the steel cocktail shaker. This will make the vodka taste less strong and bearable if you are not a fan of its strong taste. Also, add a slice of apple for garnishing after your drink is perfectly stirred by the cocktail making machine.
Chocolate Martini
Martini can be customized for the chocolate lovers with the addition of vanilla vodka, baileys, and crème de cacao along with ice in the shaker. Press the stir button for your drink to be stirred for a minute. Pour the decantation to a chilled martini glass and sip on this dessert-like martini cocktail.
Conclusion
With technological innovative electric appliances hitting the market every day, it gets overwhelming to decide which ones to get. The automatic martini shaker / cocktail machine from Waring will enable you to make martini to perfection.
The decantation of clear martini can be achieved with this cocktail machine in a few minutes. For all the cocktail lovers who enjoy cocktails with no compromise in quality should consider this premium cocktail shaker.
You won't even need to clear a lot of space in your bar or kitchen since the cocktail machine is compact and easy to set up. Just like your coffee machine, you can rely on this premium cocktail maker for endless cocktails. Making cocktails will become less chore and more fun for you even while hosting guests.