Different Types of Cocktails – Most Popular Cocktails in the World
Cocktails, without a doubt, drive the partygoers crazy as, without them, it is not possible to make sure that everyone is "ready to party." While some old classic cocktails are a must, people are also looking to savor some new flavors and mixes at a party especially where an experienced mixologist is bartending. 
Right from the beginning of mixing drinks in the 1800s, there must have been millions of different types of cocktails created by us. professional bartenders study the art of mixology to blend different flavors and ingredients while some passionate bartenders have their own home-made cocktails to cherish. 
Even though you cannot try all the different types of cocktails in a lifetime, there are some that we recommend you try at least once. So, here are four types of cocktails coming all the way from Italy and Cognac along with two other categories of drinks that you shouldn't miss.  
Italian Cocktails
The Italian Aperitivo is the time allocated before dinner served with cocktails and drinks to whet or stimulate your appetite. The standard time is 7:00 PM to 9:00 PM, during which almost all the restaurants in Italy serve different types of cocktails. 
Cocktails and some small bites of olives, cheese, and old-fashioned potato is the 'livello culturale' of this beautiful country. Truly, Italy has contributed a lot of the world of making exotic and heart-stopping expensive cocktails to some generous and delicious drinks like vino. 
Here are some of the best Italian Cocktails that should not be missed.
The sunset-colored bittersweet cocktail is Northern Italy's favorite summer drink. Made with Aperol (bitter orange-flavored spirit) and Italian sparkling wine, and prosecco this cocktail is an ideal bubbly drink for the summers. 
Bellini is not just a drink to savor in Italy, but people across the world cherish this drink, which is named after the famous Venetian artist, Giovanni Bellini. Made with peach and sparkling wine, the color of this drink is similar to the unique shade of pink used by Bellini in his paintings. Bellini has been making rounds on the food tables across the globe since the 1930s.
Some other Italian cocktails to checkout include Pirlo, Hugo, Puccini, Garibaldi, Angelo Azzuro, and Milano-Torino.  
These drinks are best prepared in restaurants and bars, but if you want some ideas for cocktails that can be prepared at home for dinner or a backyard party, here are some suggestions. 
Negroni

Americano (James Bond's go to drink)

Rossini
Cognac Cocktails
Cognac became an ingredient to make cocktails much after it was introduced in France way back in the 17th Century. Coming from the commune of Cognac, it is a type of drink made with the distillation of grapes. There are four steps to making a cognac. 
First, a strict list of grape varieties is used to start the making of cognac. Followed by grapes pressing, it is fermented for 2 to 3 weeks without using any type of sugar or sulfur. Cognac is a world-famous brandy due to its age-old distillation process in Charentials copper alembic stills. 
After distillation, the mixture is aged for two years in limousin oaks and undergoes a process called "The Angel's Share." Only after this, the cognac is distributed for public use. 
Cocktails made from Cognac
Cognac-made cocktails have a unique form of depth and warmth that lends every cocktail an authentic take of brandy coming all the way from France. Even though cognacs are individually delicious to sip, mixologists have created some exemplary cocktails with this brandy as the prime ingredient. 
Let's check out a couple of the popular ones.
Incredible Hulk:

You know where this name comes from, but why? Its flavor is unusual, unpredictable, and utterly delicious at the same time. The signature green color of Hulk is given to this drink with Hpnotiq. 

Stinger:

The go-to cocktail of New York's aristocracy around the 20th Century, the Stinger is made with mint and cognac. Along with mint, cognac, it also has creme de menthe. 
These and many more similar cocktails provide that cognac is not meant to be sipped individually. The range of cocktails made with this French brandy is quite extraordinary. This includes Vieux Carre, French 75, Japanese Cocktail, Sidecar, and many more. 
On the Rocks Cocktails
"On the Rocks" is a basic terminology used to express that the person wants the drink with ice. Ice is a basic ingredient used to make all sorts of cocktails. Cocktails are best enjoyed when they are chilled. But ice has a few more benefits than the obvious one. 
In some spirits, like whiskey or scotch, ice is used to squeeze out the unique aroma that is already present in the spirit. But throughout time, we have seen mixologists create and form new flavors of cocktails with ice as the main ingredient and an effective one to give the cocktail its signature taste and aroma. 
Here are the 6 types of "On the Rocks" cocktails
Rum and Smoke:

A cinematic cocktail for sure, rum and smoke are similar to a Negroni. This cocktail is prepared with aged rum, Oloroso sherry, and Tempus fugit gran garnished with some rosemary sprig. 

Spicy Margarita:

One drink that everyone knows is the classic Margarita. The spicy margarita is a new version of the same classic drink made with the same ingredients as Margarita, and added with jalapeno coins and garnished with the same to give it a spicy taste. 

Reggae Rum Punch:

Have you

ever wanted to try the authentic Jamaican rum added with orange juice, pineapple juice, and fresh lime juice? Apart from these blends, the reggae rum punch also has strawberry syrup to give it a sweet taste. 

Ginger Fever Punch:

A stunning cocktail by Shawn Chen, labeled by him as an "ultimate holiday cocktail discovered and created to please a thirsty crowd." This cocktail has tequila, lime juice, pomegranate juice, grapefruit juice, Goji ginger syrup, and ginger beer. The pomegranate seeds, grapefruit slice, and rosemary sprig garnishing take the taste and aesthetics of this cocktail to a whole new level. 
Jack Daniels Country Cocktails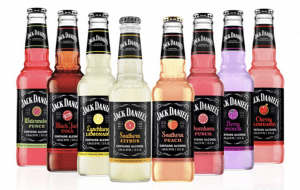 Jack Daniels is a world-renowned brand of spirits, whiskeys, rum, and now cocktails too have become a part of their offerings. Jack Daniels country cocktails warrant a special mention as it combines flavored malt and natural citrus flavor fruits and the Jack Daniel's Tennessee whiskey packed into bottles and distributed to various countries. 
Because the cocktails by Jack Daniels have fruits as their primary ingredients, they are also named as such. Their cocktails can be divided into two categories; 
Year-Round Flavors

Lynchburg Lemonade:

Plain old lemonade served as the favorite American summertime favorite drink. 

Downhome Punch:

A great drink for those looking to get a kick with Tennessee malt and classic Jack Daniels sweet and sour punch. 

Berry Punch:

This drink combines the taste of berries with the classic Jack Daniels flavor and malt. 

Watermelon Punch:

Here is your chance to have a sip of watermelon added with Jack Daniels. 

Seasonal Flavors

Southern Citrus:

A blend of the popular Southern citrus fruits added in small quantities and mixed with Tennessee whiskey. 

Southern Peach:

The delicious Southern peach is added with refreshing malt and a hint of Jack Daniels whiskey. 

Cherry Limeade:

A hit during the summers, the Cherry Limeade is perfect for those looking to cherish a sweet and tart drink. 
Jack Daniel's rich and flavorful history in the country authenticates its ability to discover and create amazing new flavors of cocktails and distribute the same to the entire world. 
Conclusion
These four types of cocktails are not the only ones to exist. There are many more types of amazing cocktails to choose from, but these four have been making rounds in terms of popularity, taste, authenticity, and flavor. Remember these names and next time you visit a party or go to a bar, ask the bartender to make one of these. Let's see how you rank some of the most amazing cocktails that we have chosen to share with you.