Different Types of Cocktail Shakers
Cocktail shakers are an indispensable part of the bars. No matter where you go, you will find them in every bar. You must have seen those bartenders juggling these shakers, ever wondered why? Well, you need to try some of their drinks to know better. For now, you should know that they are used for mixing and chilling the cocktails.
The application of these cocktail shakers is not just limited to providing entertainment and mixing drinks. The unique way of using these cocktail shakers affects the taste and texture of the drink to a great extent. You cannot enjoy a martini the way it should be without shaking it. Moreover, shakers can also help in aerating, emulsifying, and integrating ingredients. You can also dilute the cocktails with these shakers. Interesting isn't it? Well, it's about to get better.
Here in this article, we will take you on a ride to know everything related to the best cocktail shakers. We have compiled some valuable information for you. Keep reading to find out!!!.
Types of Cocktail Shakers
Well, if we talk about cocktail shakers, there are technically three types of cocktail shakers. They vary based on factors like volume, dilution, and design. Let's take a quick look at them.
Cobbler Cocktail Shaker
The Cobbler Cocktail Shaker is a 3-piece shaker that is ideal for making small drinks. It does not need any extra strainer as it already has one included. This eases the process of pouring the drink into the glass without any pulp or tiny pieces of ice. The Cobbler cocktail shaker is available in various shapes of the lid.
Boston Cocktail Shaker
Boston Cocktail Shaker is a two-part cocktail shaker that is best for busy bars. It has relatively more volume as compared to the Cobbler shaker. Boston cocktail shaker is also known as an American style cocktail shaker.
This is because the shaker glass has a capacity of 16oz., which is equal to that of an American pint. The shaker tin is of conical shape and can hold up to 28oz. of drink.
French Cocktail Shaker
This cocktail shaker has mixed characteristics of both Cobbler and Boston cocktail shakers. It is a two-piece shaker with a metal lid and tin. The lid completely fits onto the tin that eliminates the mix up of dirt with the drink.
Moreover, just like the Boston shaker, it does not have any strainer included in it. It has an elegant and comfortable to hold design. The tight seal design of the shaker prevents the dripping of the cocktail while shaking.
Different Materials Used for Making Cocktail Shakers
As we are well-versed with the different types of cocktail shakers, let's take a look at the materials that they are made of. How quickly your drink will be chilled will highly depend on the type of material used.
Copper is one of the materials that is used in making the cocktail shakers. Copper-based shakers are a bartender's best friend, as they last longer without losing their fantastic shine looks. More importantly, they are stronger and won't turn to pieces due to a mishap (which is pretty common in the case of a beginner mixologist). Not to doubt your skills, but it happens!!!
Unlike other materials, the copper shakers require special care for retaining their shine. They need to be hand-washed properly from time to time to keep them lustrous.
Stainless Steel is one of the commonly used materials in making cocktail shakers. This is because it is highly durable and chills your drink in the shortest time as compared to other materials. Moreover, the cocktail shakers made from Stainless Steel are rustproof too. This means that they can be used for a longer time.
Their sturdy construction makes them absolutely safe to perform fun activities in the bar or at home. And unlike Copper cocktail shakers, Stainless Steel Shakers can be easily washed in a dishwasher.
Glass
Glass is another material that is used in making the cocktail shakers. Unlike stainless steel, the glass has a better look that blends well with the bar or your home kitchen. It also stays protected from rust.
But, there are some downsides also to the glass cocktail shakers. Glass is brittle, so if you accidentally dropped the shaker, you need to get yourself a new one. Moreover, your drink may not chill that fast, as in the case of a steel shaker.
Well, the name of the material is enough to define the glamour of the product. The cocktail shaker made from Gold plating will not only offer you functions but will also improve the overall beauty of your home bar. Hence, it is one of the favorable materials choices to opt for.
Stainless Steel Cocktail Shakers
1.   Barfly Stainless Steel Shaker Cocktail Tin
This excellent cocktail shaker is made from premium quality stainless steel. The tin has a volume of 18oz. Or 28oz. Depending upon the one you are buying. The high volume capacity of the cocktail shaker makes it best for busy bars.
The steel construction, along with the weighted capped bottom, provides the shaker with awesome strength and stability. In addition to this, the satin finish makes the shaker comfortable to hold. It is also easy to wash it in a dishwasher.
2.   OXO Steel Cocktail Shaker (18oz.)
The best thing about this stainless steel shaker is its elegant design. Moreover, you will not need a separate strainer for this. It has one included inside it. In addition to this, the OXO steel cocktail shaker has a double-walled stainless steel construction that offers its immense durability.
The brushed stainless steel design of the shaker makes it easy to hold while shaking. In short, it is the best cocktail shaker to buy.
Copper Cocktail Shakers
1.   Tom Dixon Men's Plum Cocktail Shaker
If you are looking for an imported and brilliant looking cocktail shaker, this Tom Dixon shaker will be the best cocktail shaker for you. Its super stimulating design will make your guests say wow.
Moreover, as per application also, it surpasses all the expectations. The Copper-plated, tapered ends of the shaker offer a superior grip. In addition to this, it is also easy to balance while shaking. Its elegant look will blend excellently with your home or professional bar.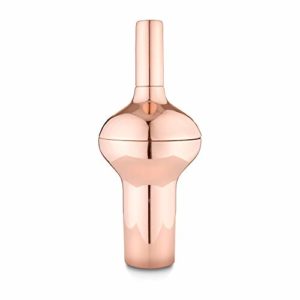 2.   King International Stainless Steel and Copper Cocktail Shaker
This awesome product from King International is a perfect combination of function and fashion. The ideal blend of Copper and steel makes the product ideal for mixing all kinds of drinks. It does not affect the taste or nutrient content of the drink.
The shaker has a  glamorous look that will blend well on the bar counter or in your kitchen. Along with this, you can also buy it with a measuring cup and a strainer.
For more reviews of copper cocktail shakers please visit this page.
Gold Cocktail Shakers
1.   Homestia 23.5oz. Cocktail Shaker (Gold)
The Homestia cocktail shaker looks like Christmas every time you look at it. And it is not just limited to its artistic characteristics. It also has a sturdy construction that prevents breakage if dropped. Moreover, it is BPA free and does not rust over time.
The best thing about the shaker is that it does not leak. But you need to be careful while washing it because of its color. It is best for both professional and home bars.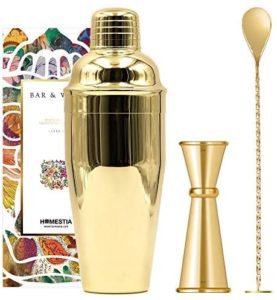 2.   W&P Pineapple Cocktail Shaker
Have some guests at home? Make an impression with this beautifully crafted Gold Pineapple Cocktail Shaker. The elegantly designed shaker fulfills all of your cocktail needs. You can use it to shake and mix delicious cocktails.
The volume of the cocktail shaker is 18oz. That is enough to serve one glass at a time. The item is lightweight and needs proper care while washing. Make sure you only hand wash it.
How to use the cocktail shakers?
As you now know about all types of cocktail shakers, you need to learn how to use the cocktail shakers. Based on the type, the procedure may vary slightly, but the basic steps are the same for all types of cocktail shakers.
First off, you need to make sure that the serving glass is chilled. You can add ice to it or keep it in the fridge for chilling.
After keeping the serving glass for chilling, you need to measure the ingredients of the cocktail. Some products come with a special measuring cup known as the jigger. Use that to measure the volume of ingredients.
Add ice to the mixing glass that has the cocktail ingredients.
Put a perfect seal on the shaker glass to prevent any leakage during shaking.
Shake! Shake! Shake! For around 15-20 seconds to thoroughly mix the ingredients and crush the ice.
Now, it's time to unseal the shaker. Be careful as shakers like Cobbler and french may get stuck due to metal contraction. If they do, put them under warm water some sometime.
POUR!!! This is the most exciting part. You need to remove the cap or the mixing glass (for Boston shakers) to pour the cocktail into the serving glass. You can use the strainer if required.
Things to Consider While Buying Cocktail Shaker
When you go online to buy anything, you get countless choices to opt from. And it is natural for someone to get confused. If you are thinking of buying the best cocktail shaker for your bar, you need to closely analyze some crucial factors. Here we will discuss some of those factors!
Material
So, the first thing you need to analyze in the best cocktail shaker is its material. When you will go online and search for cocktail shakers, you will get many choices in the case of material. The most commonly used materials in a cocktail shaker are Copper, steel, glass, gold, and plastic.
If we talk about the best one, you can blindly go for Stainless Steel. Copper and glass are also good, but they do not chill the cocktail as fast as steel does. You should avoid going for plastic in case of long term usage.
Design
The look of the best cocktail shaker should be attractive enough to gather the attention of the people. But, you should also consider that it should not be tough to handle. The cocktail shaker should be easy on your hand. Keep a close check on the weight of the shaker before buying. Also, take care of the fact that it blends well with your professional or home bar.
Capacity
This factor matters whether you are buying it for your professional bar or home bar. Although if you have more guests at home, you may need to opt for a shaker cup with more volume. Most of the online sellers sell cocktail shakers in two volumes, 28oz. And/or 18oz.
Now, if you are buying it for your professional busy bar, the 28oz. Cup will be a good choice. On the other hand, if you are purchasing it for your home bar, you may opt for the 18oz. cup.
Type
If you recall, we discussed various types of cocktail shakers above. You need to take a close look at the design also while buying the best cocktail shaker. There are three types of shakers, namely Cobbler, Boston, and French.
If you are looking for a shaker that mixes more volume of cocktail, go for the Boston and French. On the other hand, if you don't want much dilution in your drink, opt for the Cobbler.
You want a built-in strainer in your shaker, choose anyone among Cobbler or French shaker.
Purpose
There are three primary purposes of the cocktail shaker:
Mixing the drinks
Diluting the drinks
Chilling the drinks.
So, no matter which cocktail shaker you choose, you will be able to do all the three. The choice will vary based on the volume of cocktail you need.
Conclusion
In a nutshell, we can say that cocktail shakers are best for making yummy cocktails in less time. No matter what type of beverage you want, you can easily shake them in a shaker and treat your guests with it in no time.
Moreover, we have analyzed some cocktail shakers that will help you in making and chilling your favorite cocktails. You also have full knowledge about what to consider while buying the best cocktail shakers. So, good luck with choosing the best one for yourself.