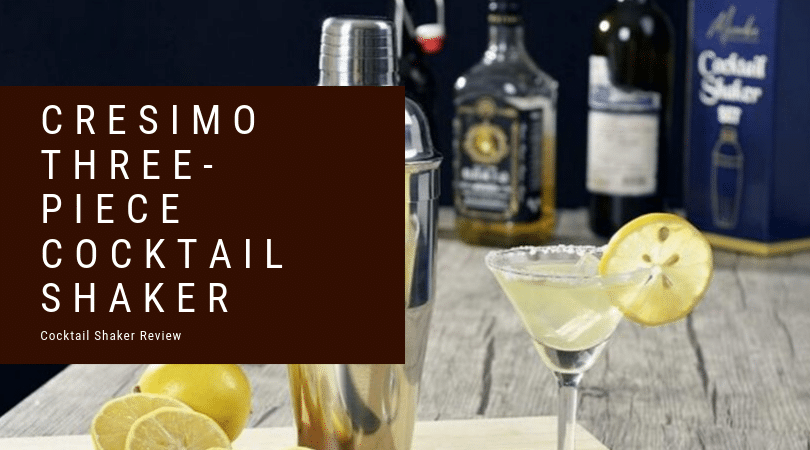 The Cresimo Three-piece Cocktail Shaker
It is not just another Martini shaker, but you can whip up your favorite cocktails including a Bloody Mary, Margarita, Mojito and more in a jiffy. The three-piece shaker set is sassy, primarily because of its no-spill design. The set
includes a twisted stirring spoon, a jigger to measure out the portions of liquor, and a free cocktail recipe booklet that will boost your bartending skills in no time.
Known for its most excellent quality stainless steel products, Cresimo introduces yet another simple three-piece cocktail shaker. It is an ideal kit for those who want to try their hand in bartending and also a great addition to a professional's barware collection. The Company formed and run by a group of like-minded entrepreneurs are continually striving to deliver incomparable customer service through their premium quality products.
Features:
The product weighs about 9 ounces and can hold up to 24 oz of liquid in it. The size is just right and easily makes two servings and maybe even three.
It is made of high-quality stainless steel of 304 grade and has a mirror finish similar to the other Cresimo products.
The built-in strainer with a tight lid ensures no spillage.
The design is attractive and is built to last.
All Cresimo products are BPA-free and safe to use in a dishwasher. The shaker will not lose it sheen with time.
The cocktail shaker comes with bonus items that will help you craft a drink to perfection, and there is no need to go hunting for other supplementary tools.
The bar spoon, with its twisted pattern comes to your rescue while fixing a tall glass of drink. It can be used for all types of cocktails, including mixed and layered ones. In short, it is the perfect partner for your 9" cocktail shaker.
The bonus jigger helps you to measure out the fluids in the right quantities. While one side of the jigger measures 1 ounce, the other hand measures half the capacity.
The set also comes with an essential guidebook that contains an assortment of cocktail recipes using different liquors. It also points out to you some interesting bartending and mixing tips and tricks that will mold you into a better mixologist.
Pros:
It is rust and leak proof.
You can clean it easily by hand and also is dishwasher-safe.
The company offers free shipping worldwide.
The cocktail shaker is versatile, and you can use any alcohol for mixing.
It is long-lasting and affordable.
The company entertains returns, which are easy and fast.
You have direct access to its 24×7 customer service.
The Company offers 100% guarantee on its products, and all you have to do is fill up a simple Warranty
Registration Form found on the Company's official webpage.
Cons:
The set consists of only the essential items and does not include any of the additional tools such as liquor pourers or a Martini pin but serves its purpose of being a cocktail maker to the fullest.
There are no markings on the jigger, but you will be familiar with the portions in no time.
Final Verdict:
Narrowing down to the best of the five – drum rolls for the Barillio Cocktail Shaker! It is the one brand that has the maximum number of positive cocktail shaker reviews on Amazon.com. It is also affordable, versatile, and a definite must buy cocktail shaker for both the beginners and the professionals alike. Hence, think no more, and waste no time in searching and studying shaker reviews online.
Just grab the best buy you have before you now and sip on your favorite Negroni in no time!