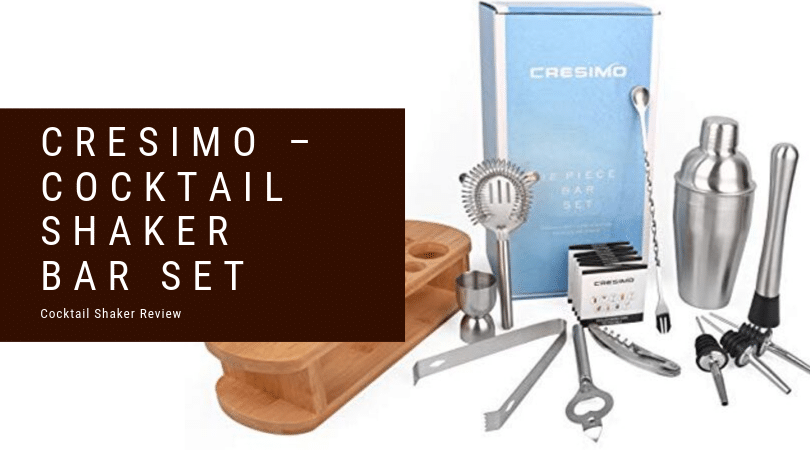 Cresimo – Cocktail Shaker Bar Set
Do you engage yourself, to host your friends and families often? Do you shell out big bucks at the bar for an exceptional Margarita or a Cosmopolitan? Have you ever tried making one at home but failed miserably due to the spills? Do you find it hard to manage and clean your contemporary barware, or are you worried that it might just rust over time? Then, think no more. Buy the Cresimo Cocktail Shaker today. 
Cresimo offers premium quality storage products for hot beverages and stainless steel barware. The products offered by the Company range from carafes, coffee makers, to cocktail shakers and a complete barware set. With the all-new seven-piece Martini Cocktail Shaker, you now have all that you need for creating a perfect mix. The collection comprises of a 10″ muddler, one bar spoon with a twisted design for easy mixing, three pourers, a Jigger to measure right, and a free copy of exciting cocktail recipes. The Cresimo Cocktail Shaker is handy for both uses at a bar and your home. It is a great starter kit for amateur mixologists. Moreover, the customer care service at Cresimo is exceptional, continually working towards excellence and customer satisfaction. 
Features: 
The entire set weighs only about 1.1 pounds; hence, it is easy to handle. 

The shaker is of the standard size and can hold up to 24 oz of liquid, that is about two to three drinks. 

Made from high quality 304 SS with a mirror finish, the shaker is nothing but sturdy. 

The parts, although feel light, are of the correct thickness, which does not make any of the tools feel bulky. 

The materials used to make the bartender set are BPA-Free, does not rust, leak, or lose quality with continuous usage, and is dishwasher safe. 

It has a built-in filter with a seal attached to prevent leaks. 

It also has all the essential tools needed to cook up an exciting cocktail, and so you will not have to go anywhere searching for more devices. 

It is a balanced set, which feels great to have at your bar and also to gift your friend or relative. 

The Company also offers impressive upgrades at affordable prices that include the latest four-piece Boston Shaker. You can even find shakers with capacities ranging from 18 oz, 28 oz, and even 32 oz. 
Pros: 
It is a basic set suitable for beginners and elegant for professional use as well. 

It is also versatile. You get to make not only Martinis, but also Mojitos, Margaritas, and anything that you feel like having a taste. 

The product has a sturdy design that ensures there are no leaks or spills. 

It is both leak and rust-proof. 

You can easily clean the parts by hand, and it is even dishwasher safe. 

The cocktail shaker is affordable and durable. 

It has a guaranteed 2-year warranty period that covers all the issues related to the product. 
Cons: 
The jigger does not have a marking on the inside. However, this issue is common with most of the cocktail shaker sets.