Cocktail Shaker – Authority Kickass Buying Guide
Without the right tools, life can be exhausting. For instance, how long would it take to prepare a cup of freshly brewed coffee without the help of a coffee maker? Similarly, there is no replacement when it comes to making refreshing cocktails other than using the world's best cocktail shaker. Only a cocktail shaker can blend in all the ingredients perfectly well together to create a magical mix. A bartender can make you a great cocktail, but even Chef Gusteau can cook up an equally exciting cocktail recipe for you. However, you will never truly understand the true essence of mixing unless you make one for yourself. For this, you will need a cocktail shaker. There is nothing more stylish and urbane about having your very own cocktail shaker in your bar cabinet. Here is a quick buying guide that will tell you all about cocktail shakers.
The History of Cocktail Shakers
Do you know when and which were the first cocktails made? Recordings from the publication of The Farmers' Cabinet, reveals that the word "cocktail" was first used in the U.S on 28th April 1803. There is also another reference to the word "cocktail" that dates back to the 20th of March, 1798 in London. An interesting fact is that the world's oldest cocktail was simply named after its main ingredient – the Sazerac French Brandy, and there was nothing fancy about it.
History further takes us back in time, say, all the way back to 7000 B.C, where the first cocktail shaker was made from a jar gourd. It was a closed vessel, which was shaken to create a mix of drinks. Later, the Egyptians started mixing spices to their alcohol, giving birth to the science of "mixology." The mixing of wine with water by the Greeks is also a classic example of cocktail mixing using a large earthen pot, called the krater, or what it would it be known today as the cocktail shaker.
Here is an interesting timeline leading to the present day cocktail shakers: 
7000 BC – Jar Gourds used as closed containers by the prehispanic Mexicans and South Americans.
1520 BC – A Golden Cylinder serving frothy cacao-mixed beverages to Montezuma.
3500 BC – Mixing of spices into fermented grain concoctions by the Egyptians.
Mid-19th century – Introduction of the cocktail shaker by an innkeeper who for fun shook his drinks back and forth using one wide and one small-mouthed container.
Late 19th century – Post this period, people fancied cocktail shakers and newer designs were introduced, which led to several patent applications. An interesting addition to the shaker was that of the filter, which forms an integral part in today's cocktail shaker, without which mixing drinks without spills is not possible.
The 1920s – It saw a period of prohibition but this only jazzed up its presence onscreen, making people believe that a cocktail shaker was a symbol of sophistication and good life.
1941 – It was during this time that World War II happened and this period saw a total decline of the cocktail shakers, as most of the metal was used to manufacture artillery.
The 1950s – It was a short resurgence period for the cocktail shakers were a few soldiers familiar with the tool added it to their barware.
The late 1950s – Modern electric appliances such as electric blenders were slowly replacing the shakers.
The mid-1860s – The period saw a return of the practice of mixing beverages using two tumblers once again.
Post this era, several patented cocktail shakers resurfaced such as T. Miller's patent #256,126 that introduced a combined mixer with a hinged strainer in 1882 and G. S. Bryce's patent #1,532,681 that gave birth to the standard 3-piece shaker fitted with a cork, a strainer, a metal stopper, and a metal pourer in 1925 ever since inventions and modifications have been countless.
Types of Cocktail Shakers
Of the many different varieties of cocktail shakers found in the market today, there are only three types of shakers that you need to know about. The rest all differ from each other in its make, shape, dimensions, materials used, and the designer.
Design:
It consists of three different parts, including a metal tumbler, a built-in strainer, and a metal cap. The cap is smaller than the tumbler and covers the strainer tightly. In total, the cap serves two purposes. One, it acts as a lid and prevents spillage while the other is that you can use the cap as a measuring device to measure accurate volumes of liquor for your cocktail. However, you might find cleaning the strainer a bit difficult because of the small hole size.
Usage:
In order to prepare a cocktail using the Cobbler shaker, you will first need to measure each spirit and pour it into the tumbler. Top it with ice and shake it well. Once done, take off the lid, strain the mixed drink into a nice cocktail glass, and serve. It is the easiest shaker to use, especially for amateurs who are trying their luck in bartending or to even simply show-off their mixing skills. Moreover, if you see any top rated cocktail shaker, then you will notice that it is a Cobbler-type shaker.
Design:
It is simple in design and consists of only two pieces, a metal tumbler and a mixing glass that is smaller in size. The mixing glass is commonly made of glass or plastic. There is no built-in strainer in a Boston shaker, and as such you will need to buy an additional Hawthorne or a Julep strainer for straining the drink.
Usage:
With just two parts, mixing in a Boston Shaker is easy. All you need to do is add the ingredients one by one into the mixing glass, and then add the desired quantity of ice. Close the shaker and ensure that it is properly sealed. Shake it and when done, set apart the two pieces. Use the filter to pour out your drink by placing it over the tumbler. Your Minty Mojito is ready to be served chilled!
Design:
The French shaker, also known as the Retro Shaker, is similar to the Boston shaker in terms of design. It is also a two-piece shaker with a metal lid and a larger metal tumbler. It too lacks a built-in strainer, and hence you will need to get a Julep or a Hawthorne strainer in addition to the shaker so that you can serve the drink without spilling.
Usage:
Just as in a Boston Shaker, you will need to transfer the ingredients and ice into the tumbler. Shake it well after you close the tumbler with its lid, and once done, you can pour out the cocktail using the strainer. The French shakers are rarely used, but it is still popular in many places.
How to Shake a Cocktail?
Shaking is the basic technique used in bartending. Most of the cocktail recipes ask you to shake the shaker once all the ingredients are in it. The process is by far enjoyable and surprisingly simple, which takes about a minute or so.

Shaking two or more liquids allows the flavors to infuse, thereby adding texture to the final drink. Thanks to the tiny air bubbles created while doing so! However, tossing and turning a cocktail shaker alone will not help. You need to understand the science behind it, and with practice, you will master the art sooner than you think.
7 Easy Tips That Will Help You Shake a Cocktail Like a Pro
First of all, get all your ingredients ready including your preferred type of cocktail shaker, strainer (if it is a Boston or French shaker), ice cubes, spirits, liqueurs, fruit juices, concentrates, and other mixers as per your recipe.
Secondly, transfer all the ingredients one by one into the cocktail shaker. If you are using a Boston or French shaker, then you will need to pour the ingredients into the mixing glass.
Next, add in the ice cubes. You can even fill the ice before transferring the ingredients as well. It is one and the same.
Once all the ingredients are in, close the shaker with the lid. Ensure the shaker is properly sealed.
Now comes the fun part – hold the shaker using both your hands, each hand over each piece of the shaker and shake it over your shoulder heartily.
The shaking should go on for about 10-20 seconds or until you begin to feel the frost on the outside of the shaker.
Lastly, strain the drink using the inbuilt strainer or a Hawthorne strainer straight into your cocktail glass.
Voila! Your cool and crisp cocktail is now ready to be served.
7 Bonus Tips That Will Help You Shake Like a Pro.
Although you can add the ice before or after pouring in the ingredients, it is best to fill the shaker with ice first, as it will keep the shaker chilled and cool the ingredients as and when you pour them.
Fill ice only halfway if you are making a cocktail for two or following a recipe that has only a few ingredients. If you, however, you are using a lot of ingredients, then reduce the quantity of ice.
Never fill your shaker to its maximum capacity. Always give it enough breathing space for the ingredients to mix well.
Based on the ingredients used, know how long you need to shake the shaker. For instance, if you are using eggs or cream, then you need to shake harder and longer.
Hold the shaker firmly between both your hands so that it does not slip through them. You want the cocktail in your glass and not on the floor.
Shake it over your shoulder, as it helps you to exert some force naturally while shaking.
While preparing a drink on the rocks, remember to strain the contents directly over fresh ice.
Most importantly, learn to enjoy while you shake and put your heart and soul into it. Don't overdo nor underdo it. Give it some force, movement, and love. It is, after all, a fun thing that you are doing.
Where to Buy a Cocktail Shaker?
For any purchase, be it your cocktail shaker, there are always two options.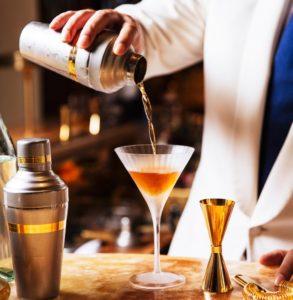 One is to buy a cocktail shaker from a local home décor store that is the closest to you. Stores like the Walmart or the Wayfair Home Décor stores are bound to have a few interesting collections. Moreover, buying from a store is the fastest means of getting your hands on what you want. However, on the downside, your options might be limited, designs might be region-specific, and you might not get the best deal for your cocktail shaker after all. It comes to the point where you just take it or leave it.
The second best choice is to shop at an e-store. Now, you can buy cocktail shaker online. It is easy, fast, and more convenient. You are spoilt for choices, and you will find great deals here. You will also get exactly what you want. For instance, if you need a four-piece cocktail shaker that is black with a matte finish for less than $20, then you will find one online and nowhere in a retail store. Shopping online is a great value for your money. Sites like Amazon, eBay, etc.… offer more than hundreds of designs. You can even browse through the Company's website and order directly from the site. These days most online companies ship your products to any part of the world, subject to a minor shipping charge. While some even do it free of cost.
Now that you know the different types of shakers available and what to look for reading a few cocktail shaker reviews online and order the one you like now.
Frequently Asked Questions
How to open a cocktail shaker?
Pour the ingredients, add the ice, close the lid, and shake. All is well up until here, but you now face a problem when you try to open the shaker. Either both the parts are glued to each other because of the frost, and hence you are unable to open the shaker, or you just apply too much pressure and tend to spill the drink on the floor. You don't want to be in either of these situations.
So, here is what you do to detach the two parts. Hold the shaker with one hand and then gently tap the "sweet spot" using the other hand. A strong tap will separate both parts instantly. In order to identify the sweet spot, you need to check where metal and the glass (or the lid) meet and then gently move a quarter way from it. It is not as difficult as you think. All you need is a little practice.
How to use a cocktail shaker?
As discussed under the section on how to shake your shaker, just follow these simple steps:
Pour all the ingredients into the shaker.
Fill it with ice until it is two-thirds full.
Close the lid.
Shake it vigorously using both hands.
If it is a three-piece shaker, then you are ready to serve at this stage. If not, proceed to step 6.
If you own a two-piece shaker, then place a strainer on top and strain the liquid leaving behind the ice. Your cocktail is ready!
What size is a cocktail shaker?
Most cocktail shakers manufactured today are of the standard size that can hold a volume of up to 28-oz, which is equivalent to 800 ml. The said volume can easily fill up to two to three glasses of your favorite cocktail. In addition, you can find varying sizes of cocktail shakers, including a 16-oz or 450 ml, 18-oz or 510 ml, and 20-oz or 570 ml shaker containers in the market now.
Do you put ice in a cocktail shaker?
A majority of the cocktail recipes call for ice while making it in a cocktail shaker. The purpose of ice in a shaker is to chill the drink. A good jiggle will make the ice inside to shake, which then cools the ingredients and lets out water into your drink. So, if you need a chilling cocktail, then don't skip the ice.
How do you stop a cocktail shaker from leaking?
The more the number of parts in a cocktail shaker, the more it is bound to leak. Hence, the best option to have a leak-free cocktail-making experience is to go for a Boston shaker. However, you can still avoid leaks in a Cobbler shaker as long as you make sure that the glass and the lid have a tight seal around it. For this, hold the mixer up on your right side so that the liquids are in the glass and not on the top cover.
Secondly, make sure to buy a shaker that is of superior quality and good design, so that it doesn't leak or wear out easily.
How many times should you shake a martini?
Typically, a Dry Martinis is never shaken. It is only stirred. It is because shaking will only dilute the drink and loosen the flavor of the vodka. Hence, stirring for 30 seconds is the right way to prepare a Dry Martini. If, however, you must shake, then a 10-second shake is just good enough and not more.
Final Verdict:
As long as you are not window shopping, shopping for a cocktail shaker might be confusing. You need to invest your money in something that is of excellent quality, faultless, and serves its purpose. Buying a cocktail shaker goes beyond looks and appeal. It is all about making the right decision, which you will not have to regret later. For this, our buying guide will help you make an informed choice on what you need to look out for a while shortlisting the options before you. Don't just buy any cocktail shaker. Instead, choose the one best-reviewed and meets the industry standards. After all who doesn't want to prepare an enticing drink without any trouble.